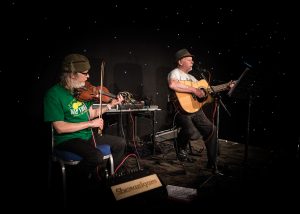 Shenanigans is an Irish Music Duo playing at weddings, house parties, pubs, clubs and music festivals, in fact anywhere that appreciates live Irish music.
Shenanigans got together when Alan's wife retired from the duo Milligans Wake and Alan looked to continue working with the music. Based in High Peak, Derbyshire.
Shenanigans  consists of  Alan who  is the main vocalist and also plays the guitar. He is an excellent vocalist, singing with feeling, straight from the heart. His sensitive and lyrical rendition of, for example, Carrickfergus will give you goose pimples.. Steve, Is one of  best fiddle players in the north west of England, playing with great enthusiasm and panache.We will give you a lively evening of Traditional Irish Songs,Jigs and Reels.
Shenanigans self contained and suitable for a variety of venues and bring a wealth of styles to the musical mix. They do however major in traditional folk, especially Irish folk Music
 For your peace of mind we have full public liability insurance.