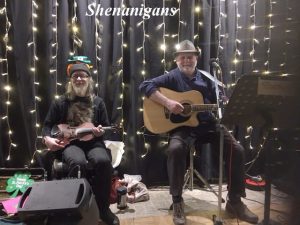 Shenanigans is an Irish music duo comprising Alan on vocals and guitar and Steve on fiddle. We have played as a duo for many years.
Shenanigans will give you a lively evening of your favourite traditional Irish songs, jigs and reels – you wont be disappointed!
We have played at all kinds of events – weddings; wedding anniversaries; birthday parties; wakes; private house parties; Irish nights in pubs; corporate functions; concert performances; and festivals.
Before playing at wakes, Steve has often played a slow march during the funeral ceremony.
Alan is an excellent vocalist, singing with feeling, straight from the heart. His sensitive and lyrical rendition of, for example, Carrickfergus will give you goose pimples!
Steve is one of best fiddle players in the North West of England, playing with great enthusiasm, sensitivity, and panache.
Shenanigans is self-contained, we have our own fine PA system which is suitable for audiences of up to four hundred people.
For your peace of mind we have full public liability insurance, and our equipment is PAT tested for electrical safety.
Alan is based in High Peak, Derbyshire, and Steve in South Manchester but we have played all over the North and the Midlands.
Verify Your Poptop Listing